JOIN THE UNIFY GEORGIA INITIATIVE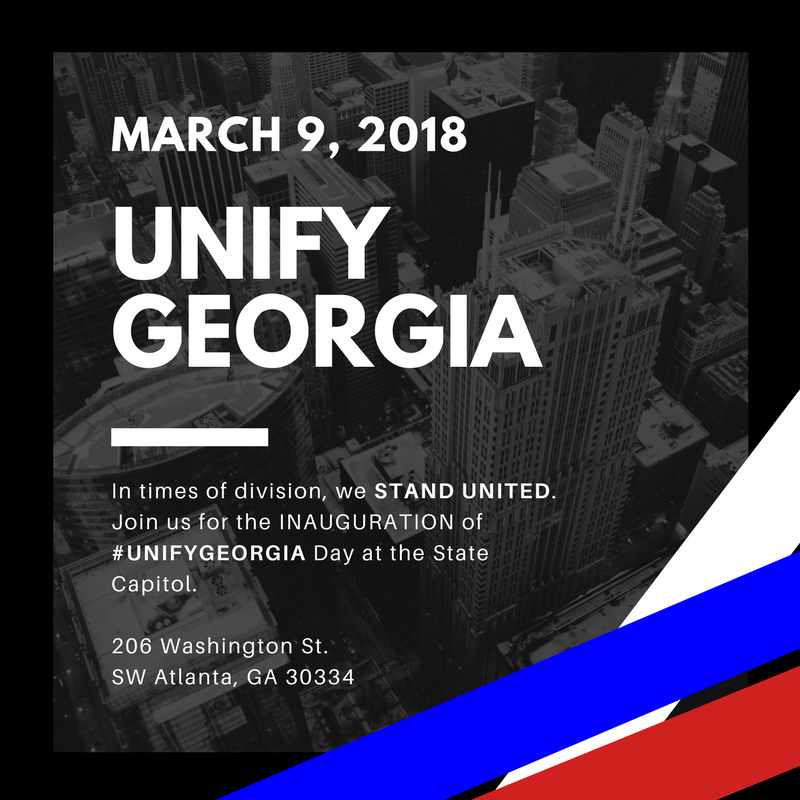 SENATOR DONZELLA JAMES (DISTRICT 35) AND SENATOR STEVE HENSON (DISTRICT 41) OF THE GEORGIA GENERAL ASSEMBLY COLLABORATE WITH COMMUNITY LEADER, TAOS WYNN OF THE PERFECT LOVE FOUNDATION TO PRESENT UNIFY GEORGIA; A DAY CELEBRATING RACIAL AND GENDER EQUALITY WHILE BOLDLY STANDING AGAINST DISCRIMINATION AND DIVISION. THE UNIFY GEORGIA INITIATIVE AND DAY WILL BE RECOGNIZED FRIDAY, MARCH 9, 2018 IN THE SENATE CHAMBER DURING LEGISLATIVE SESSION. GUESTS ARE ENCOURAGED TO WITNESS THE EVENT FROM THE SENATE GALLEY.
IN TIMES OF HEIGHTENED POLARIZATION AND POLITICAL DIVISION, THE CALL FOR UNITY COULD NOT BE MORE APPROPRIATE. UNIFY GEORGIA WILL POSITION THE STATE OF GEORGIA AS A FRONTRUNNER FOR UNITY AND WILL ENCOURAGE CITIZENS TO REKINDLE A SPIRIT OF HUMANITY AND BROTHERHOOD; REMAINING UNITED IN THE MIDST OF PROVOKING DIVISION AND HATEFUL PROPAGANDA. THE RESOLUTION AS VIEWED BY SENATOR JAMES IS A MEANS OF PUTTING ASIDE OUR DIFFERENCES AND STANDING UNITED; SHIFTING THE FOCUS AND CONVERSATION TOWARDS CREATING A GEORGIA THAT WORKS FOR EVERYONE. WYNN, THE ORIGINATOR OF UNIFY GEORGIA AGREES, VIEWING UNIFY GEORGIA DAY AS A WAY TO PROMOTE UNITY THROUGHOUT THE STATE AND ENCOURAGE CITIZENS AND LEGISLATORS ALIKE TO CONTINUE TAKING STEPS IN THE RIGHT DIRECTION FOR UNITY AND EQUALITY. UNIFY GEORGIA IS NOT ONLY AN OPPORTUNITY FOR THE PEOPLE OF THE STATE TO COME TOGETHER IN LOVE CELEBRATING GEORGIA'S PROGRESS, BUT ALSO RECOGNIZING THE NEED TO ACCOMPLISH MUCH MORE IN THE AREAS OF SOCIAL JUSTICE AND EQUALITY – A TASK THAT WE MUST CONTINUE TO ACCOMPLISH TOGETHER.
WHAT: Unify Georgia Day Resolution Presentation
WHO: Sen. Donzella James | Sen. Steve Henson
WHEN: Friday, March 9, 2018
WHERE: Senate Chamber – Georgia State Capitol
206 Washington St SW, Atlanta, GA 30334
EVENT T-SHIRTS AVAILABLE FOR PURCHASE:
https://www.eventbrite.com/e/unify-georgia-day-friday-march-9-2018-tickets-42962605309